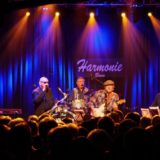 Suddenly, here we are, looking back on the year – a busy one indeed.
On the road, again, again; a Mexican festival, two European tours, an American/Canadian tour, a Japanese tour, and Mexico again.
Thank you to all who came to see live music, I am truly grateful. To those who didn't get to see us in Mexico, I am sorry.