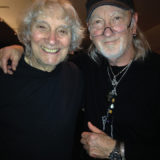 Twelve months gone again!
And where did I go? On the road, that's where. The road that leads to your door. To many doors; stage doors, closed doors, dressing room doors, hotel corridors, van doors, bedroom doors – dreaming through that revolving door of time.
And what did I see? I saw sunsets and sunrises, spotlights and smoke machines, take-offs and landings, love and music, hands in the air and constellations of smart phones.