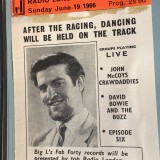 It's said that bad news comes in threes. It did this last week.
RIP Lemmy, Ed Stewart and now Bowie. Ashes to ashes.
I met Lemmy in the 80s and we bumped into each other sporadically over the years. The last time I saw him was at the Classic Rock Awards at the Roundhouse a few years ago. We were getting a lifetime achievement award.