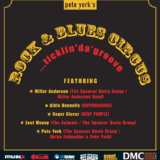 I've known Pete York and Miller Anderson since the late 60s. Several early DP tours were with Hardin/York and we've often met from time to time since then.
Over the years, Pete has organized lots of these special events, featuring a phalanx of great musicians. In 1970, Ian Paice, Miller and I took part in Pete's first one (I still have the poster advertising "Super Drumming" at Bumper's Club in London).
Several years after I'd been ousted from DP, I was invited to Pete's wedding, and it was at that point that my rapprochement with Ian Paice and Jon Lord began. Miller also sang on Jon's magnificent Pictured Within and toured with us extensively in 2000.
Zoot Money and Albie Donnelly I know only by reputation, but I look forward to meeting them.
Now, all these years later, when Pete asked if I'd be interested in joining the Rock and Blues Circus, I jumped at it. Such an honour. What better way to close a year of intense touring with DP? Bring it on!
RG
Confirmed dates are:
30.11.2018 Wuppertal – Live Club Barmen
01.12.2018 Isernhagen – Blues Garage
02.12.2018 Oldenburg – Kulturetage
03.12.2018 Bonn – Harmonie
05.12.2018 Karlsruhe – Tollhaus
06.12.2018 Wissen – Kulturwerk
07.12.2018 Erfurt – Gewerkschaftshaus
08.12.2018 Neuruppin – Kulturhaus Stadtgarten