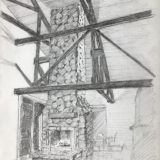 It was around the mid eighties, after Perfect Strangers, that Bruce, Jon and I decided to have a ski holiday in Colorado and to that end we rented a huge house in Keystone for nine days. I think it had five or six bedrooms, a massive kitchen, and the living room was three stories high boasting an enormous fireplace whose rough stone chimney reached all the way up to the ceiling. Everything else was made of wood. It oozed quality.
Jon and I were the first to arrive – Bruce was expected a couple of days later. Jon rented a car and we visited the supermarket on arrival and stocked up on food and wine for the days ahead.
After the first day's skiing, which was great, we received a call from Bruce telling us that he'd be delayed another day. The following day, there was another call from Bruce; he'd be delayed yet another day. After three or four days of this, Bruce called to say that he wouldn't be coming at all.
This didn't faze us a bit; we'd had some superb skiing and were living high on the hog in this great house, happy to be alone. There were days when we would rise and one would say casually to the other, "Up for skiing today or what?" And those were the days that we'd stay in, both of us curled up in the living room chairs in front of the fire, engrossed in our books. There were times when not a word was spoken for four or five hours until someone offered to get a drink. The day would pass mostly in silence – a silence that only two good friends could be comfortable with.
A couple of memories… One day, we found out that night skiing was about to start and so we decided to be there on the opening night. It was bitterly cold, maybe that was the reason nobody was on the mountain except us. Despite the temperature, the skiing was awesome; with no one around, we had the pistes to ourselves. We raced down, arms out, whooping and yelling like schoolboys. Then we saw another person. We were coming down one slope to a point where it joined another. The skier was on the other piste and as we approached each other, for whatever reason, neither took evading action so, as unbelievable as it sounds, we very nearly collided.
Towards the end of our time there, we needed to do a bit of shopping. It was early evening and the night would soon be upon us. The snow was deep, although all the roads had been ploughed. Jon was driving very carefully as there was a real danger of ice on the roads – it was well below zero. Halfway back, on a gentle turn, the car started drifting. There was nothing Jon could do and so, as if in slow motion, we slid gracefully off the side of the road and settled with a soft thud in the ditch.
We got out and looked at our predicament. Obviously, we couldn't get it out by ourselves and we'd seen precious little traffic on the roads. We were counting off our options, of which there were none, when luckily a pick-up truck drove by. It stopped and backed up, the driver asking if we needed any assistance. We certainly did. What a piece of luck.
The driver was a thickset man in a check shirt, obviously a local. He produced a towrope and fixed it to the car and effortlessly dragged us back on the road. To say the least we were grateful and wanted to convey our appreciation. Jon said something like, "Thank you, I don't know what we would have done without you. Thank you so much, we really appreciate your stopping. You're a real brick."
At precisely this point, the man's congeniality abruptly faded, the smile on his face disappeared and his eyes narrowed. There was a long pause before we realized that he had not heard of this obviously English expression. Then it dawned… he thought Jon had called him a prick.
Jon's apology and spluttering explanation of the word probably saved us from the guy pushing our car back into the ditch.
Anyway, the holiday ended all too quickly and we both agreed that it had been a sublime nine days, away from everything, just the two of us living in complete harmony.
RG