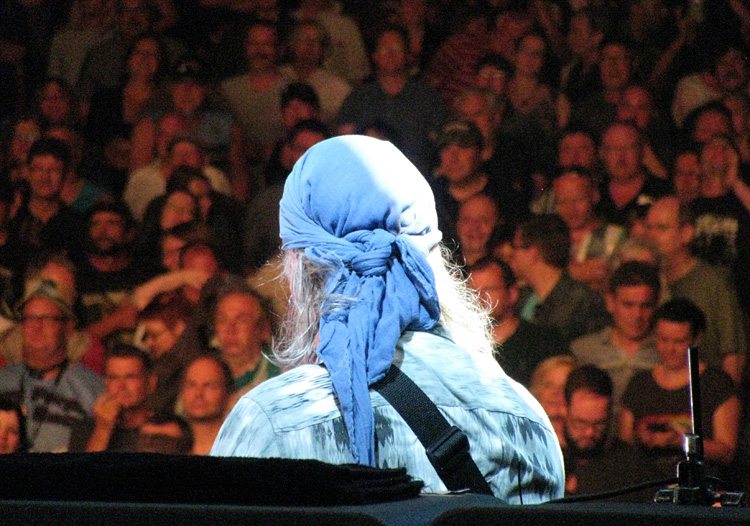 A hale and hearty December to all. I need to start by thanking those who made the effort to attend a concert or two this year, by DP or any other band – without you it would be a far lonelier place all round. Music is a gift. And live, it's a celebration.
If you sent me birthday greetings, I was touched by the warm wishes, and I read them all. Amazing – not that I read them all but that I received so many. I'm only sorry that I couldn't reply to everyone individually but I take this opportunity to tell you that I am most grateful.
2016 is fast disappearing in the mist. Apart from some great tours, DP recorded inFinite with top man Bob Ezrin. Back in January, I had expected it to be released before the year was out but for various reasons it didn't happen that way. As someone once said, "You shouldn't spoil the fruit by picking it before it's ripe." Anyway, time being what it is, spring will drop by in a few weeks and it will be yours to love or loathe, or both.
Talking of time between albums, when Tom Waits was asked why it took so many years between two of his albums, said, "I got stuck in traffic." If that failed to quell their interest, he explained that the real reason was that he'd been, "breaking in new shoes for people too busy to do it themselves". Wish I'd said that.
I've been to a couple of gigs recently… great to see my friend Randall Bramblett and his band put on a stellar performance in Basel. A week later, I saw The Answer and The Dead Daisies. Great to meet up with friends Doug Aldridge and Marco Mendosa of the Daisies, who rocked the house.
As the man said, "All Things Must Pass", and so they have. Forgetting the political unmusical chairs around the globe (as if one could), it's the changes on a personal level that affect us most – the loss of a loved or revered one. It seems that love, in all its forms, is the thing most missed when it's not around.
David Bowie's passing was so sad and unexpected that it took a little time to sink in. And then, as his music revealed that he'd choreographed it all, I was deeply moved. Ever the stylish man, it was a supremely graceful exit. I recall Episode Six playing on the same bill as Davy Jones and The Lower Third at an outdoor show at Brand's Hatch race track in the mid 60s, little did we know what an inspiring songwriter he was to become. When I heard the line from Life On Mars… "sailors fighting in the dance floor, oh man! look at those cavemen go…" I was sold.
I didn't know Leonard Cohen, but I loved what he did to me, opened my mind. When I first heard Suzanne, I was captivated. "She shows you where to look among the garbage and the flowers"… such evocative words. I became a fan of his for life.
That was what was so great about many songs written in the 60s – the world of Tin Pan Alley, proffering catchy songs that dealt mostly with love lost or found – even if they sounded great – was being usurped by musicians writing meaningful, irreverent, even spiritual, lyrics that provoked thought as they entertained. It wasn't so much about getting 'hits' as expressing oneself as an artist. And it wasn't just lyrics, the music also began shedding its shackles and embracing experimentation.
Leon Russell is a songwriter who inspired me with his beautiful melodies and words. He is most remembered for The Carpenters' "A Song for You" or Joe Cocker's Mad Dogs and Englishmen, but listen to "This Masquerade", "Tightrope", or "Hummingbird" (memorably with B.B. King on the album Indiana Mississippi Seeds) and the depth of his intelligence and artistry is evident.
Greg Lake is also no longer with us. I can't begin to tell you what an impact 21st Century Schizoid Man by King Crimson had on us. The first time we heard it was during a sound check with DP at the Lyceum Ballroom, London, sometime in late 1969. It was played over the house system and all of us in the band stopped in our tracks and listened. We were stunned.
The power of song is awesome; a force that can become part of us and, whether we know it or not, inform the rest of our lives. That was driven home to me on our first Japanese tour in 1972 when the audience sang every word of Child In Time back to us, in English.
When I was a teenager, before the flood, I wanted to be a songwriter more than anything else and still do. Nothing's changed there.
Maybe it's the only thing that hasn't.
Good luck for 2017.
RG, December 2016