… my computer died on the first day of the European tour in February. Panic stations. Seems like a prison cell when you have no Internet. Thanks to Christer Lorichs for sorting me out and also for taking this photograph for the next item.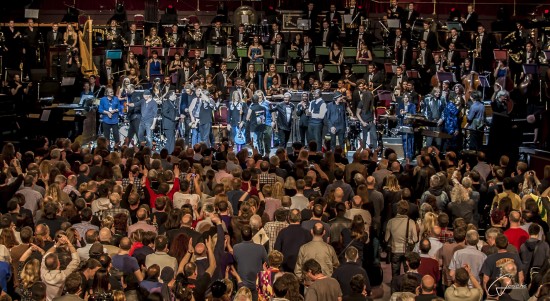 … a host of friends and admirers saluted Jon Lord at the Royal Albert Hall. Tears of wonder, joy and sorrow ran all through the first half as Jon's beautiful mind was revealed by the stellar performances on stage. I pictured myself on that same stage in 1969 standing next to, and relying on, Jon, as his vision of oneness in music became palpable. I learned a lot that day. Of course I've listened to Jon's albums over the years but one forgets how rich they are, how deeply introspective, how personal, how stocked with soaring melodies and unexpected chord shifts. And lovely lyrics. The gentleness of this gentle man is astounding, coming from the hard rock maestro that he was behind the Hammond organ. A sound that roared through our lives.
… in July, my daughter Gillian married Travis in a spectacular house in Somerset. It was everything a wedding could be and to see her so happy was pure joy.
… Mickey Lee Soule retired. Mickey has been my bass tech for a many years but is also my friend. We share a lot of life together. He and Ronnie James Dio wrote all the great Elf songs, songs that sound as fresh today as they did in the early 70s. Talking of today, anyone who hasn't checked out Pet Wounds (by Steaming Pile of Mick) should do so.
… Simon Phillips and I met again after many decades. He was doing a drum clinic twenty minutes from where I live so we went there and surprised him. It was a joyful reunion and his clinic was superb. He was 18 when he joined Mickey Lee Soule and I in Munich as we recorded my solo album, Elements. After that he was the drummer on some of the albums I produced in the 70s, notably Judas Priest and Michael Schenker. His career since then has been amazing and testament to his immense talent.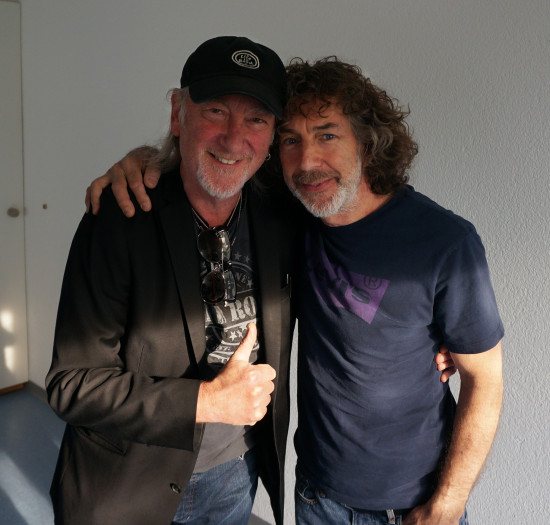 … DP had a first writing session for another album. The experience of recording Now What?! has left the band wanting it again. Six days' worth of jamming and experimenting left us with a couple of handfuls of noise. To be continued.
… I was made an Honorary Fellow of the University of South Wales. It was quite an adventure and a profound honour. Craig Hooper kindly nominated me and the faculty of the university was more than welcoming. More than that, I have an open invitation to drink in the Student's Union bar any time.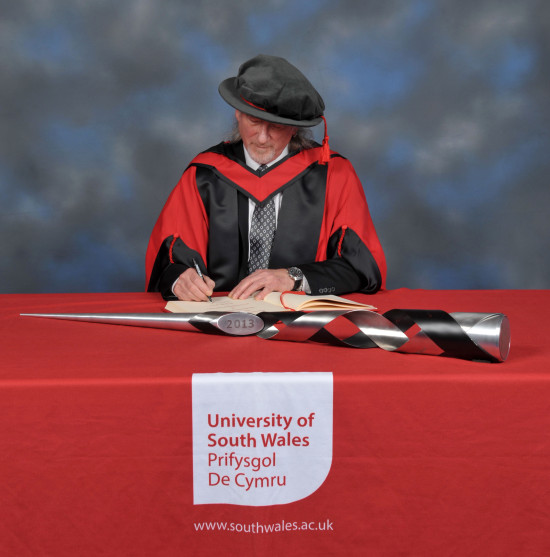 … the world lost Robin Williams, John Gustafson, Ian McLagan, Jack Bruce, Philip Seymour Hoffman, Johnny Winter, Pete Seeger, Bob Hoskins, Phil Everly, Bobby Womack, Tommy Ramone, Paco de Lucia, Rik Mayall, Acker Bilk, Rod De'Ath, Joe Cocker. What is there to say but listen to them and they live again.
Live for the moment, life is good.
Don't dwell on tomorrow, tomorrow will look after itself.
The best of the season to all and thank you to friends old and new, the steadfast DP crew and management, my band-mates, my webmaster Andreas Thul, and not least of all to the people that came to our shows around the world and gave us such a welcome – you are the reason we exist.
Good luck for 2015,
RG