In case you're interested I've just made a fresh coffee and am ensconced before my computer, wanting to post something on the website, and wondering what it might be. As you may have noticed, I'm not one who cares to bleet or twog like some, several times a day even. Where do they find the time? My time is spent, as it happens, just like yours – second by second, hour by hour, etc… and it's a precious commodity.
But here we are with a dribble of minutes and I'm off the road, enjoying the unseasonably warm weather in Europe, at least the part of Europe I think I'm in.
A few weeks ago I was at the London Bass Guitar Show in Olympia – didn't know what to expect but it was great. Few and far between are the times that I've talked to an audience – a daunting proposition – but I've learned from experience that just being oneself is the best approach. As I've said before, you rarely know how to articulate what you feel about something until someone asks, so, standing on a stage and just talking is more like a leap (of faith) in the dark. In front of around two hundred pluckers and slappers, I went in at the deep end (no pun intended) and I felt ok once I'd started. I rambled on about this and that, played a bit of bass, got a few laughs, and was grateful that many in the crowd asked questions. It was good to meet a few fellow bass players, including Neil Murray, Frank Bello, and the legendary Leland Sklar – a great man.
Talking about rambling on, a few random observations… I recently listened to THOBL and enjoyed hearing Black And White again. I have a soft spot for that song.
My French friend Walther Gallay (Café Bertrand) is releasing an excellent solo CD called Stigmates (Rock Revolution Records). Daughter Gillian and I are guesting on it. If I were you I'd check it out.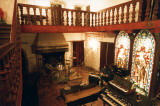 I came across this photograph. It was taken in the dining room of the Chateau de Pelly, France, during the recording of Rainbow's Down To Earth. Every picture tells a story.
I had a great time joining Don Airey and his great band on stage the other night in Switzerland. I was surprised when Don suggested Child In Time, and I enjoyed playing it again.
So there it is….. might as well have a drink then.
Good luck,
RG