Circumstances.  You can't smell them, touch or see them, but we all have them.   We sink or swim with them.  Mine have been rather chaotic of late; the recent Deep Purple Mediterranean Tour not-so-neatly coincided with family commitments and I found myself in somewhat of a quandary – should I stay or should I go?   My girlfriend Myriam was about to give birth to our second child and I needed to be there.  The indications (or was it wishful thinking?) were that 'it' would arrive early and so, after talking with the band, I approached Nick Fyffe who agreed to step in for a few gigs until the baby was born.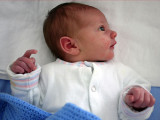 However, Melody was born on the 19th May, five or ten days overdue (doctors differ on estimations).   By that time the few gigs had turned into most of the tour and since Nick had done such an excellent job it was decided by all that he should finish the tour.   As far as I can recall, this is only the second time this has happened in forty-seven years as a professional musician, the first being in 1965 when my appendix burst during an Episode Six residency in Frankfurt.   As circumstances go, that was a doozy.
Anyway, I apologise to all those millions of fans that came just to see me!
Thank you for your understanding and I am very grateful to Ian, Steve, Ian, Don and Nick for their support under these unusual circumstances.
Good luck,
RG – May 2011